How do I explore my neighborhood?
In this article, we are going to walkthrough how to use the Map to better understand your neighborhood.

Only accounts with an advanced subscription have access to these features. Upgrade your account
here
.
1.
Click on the
Research
tab in the top navigation bar.
2. Select
Zoom
Level:
'
Neighborhood
(DA)' from the dropdown menu on the left panel.
3. Zoom in using the scroll on your mouse or trackpad to hone in on your
neighborhood on the map.
4.
Click the region where you live (it will go from having a grey border to a red border once you select it).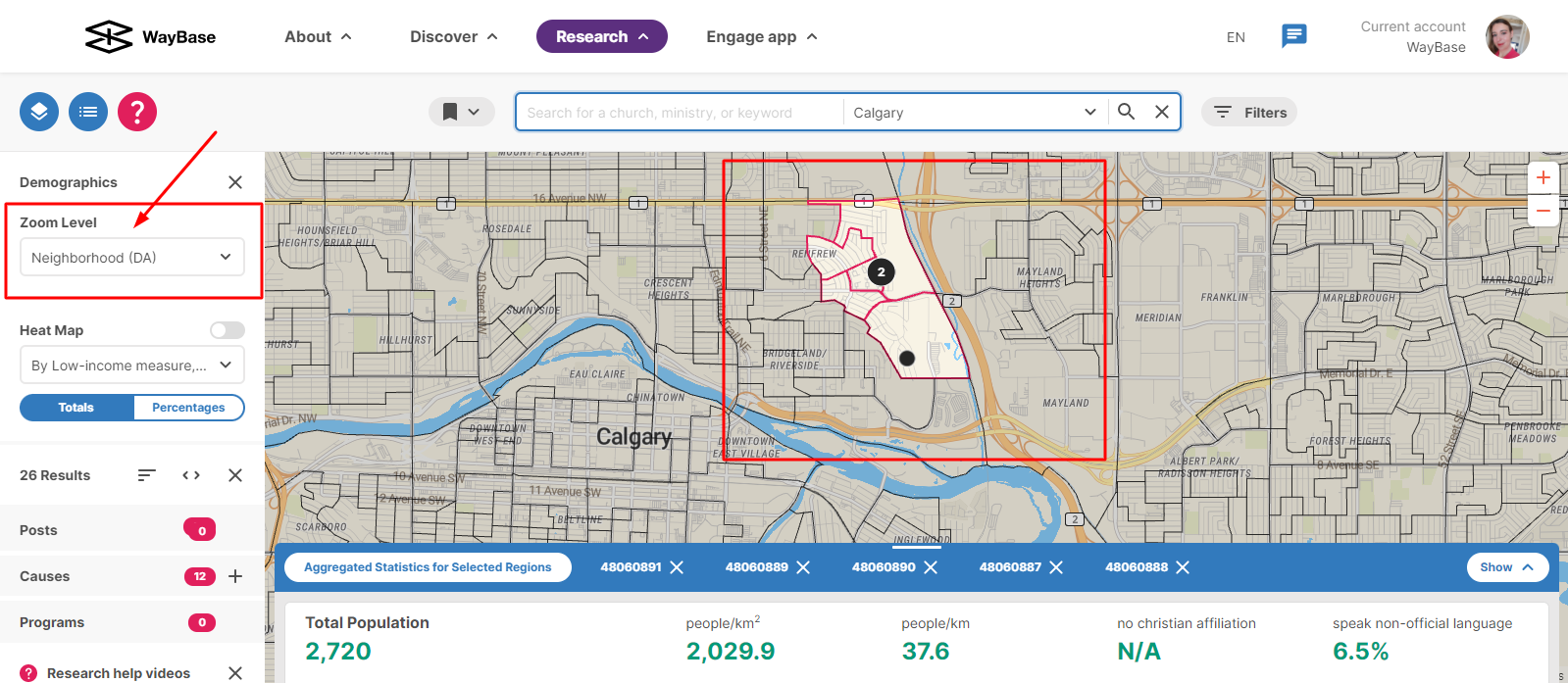 5.
Feel free to select the sections surrounding your neighborhood if you want to explore more than just your immediate
neighborhood.
6. If there are ministries in the sections you have selected, there will be a black bubble with a number on the map. The number indicates the number of ministries in that area. Click this black circle to see details of those ministries in your area. You can click on the name of any of these ministries and it will load their WayBase listing.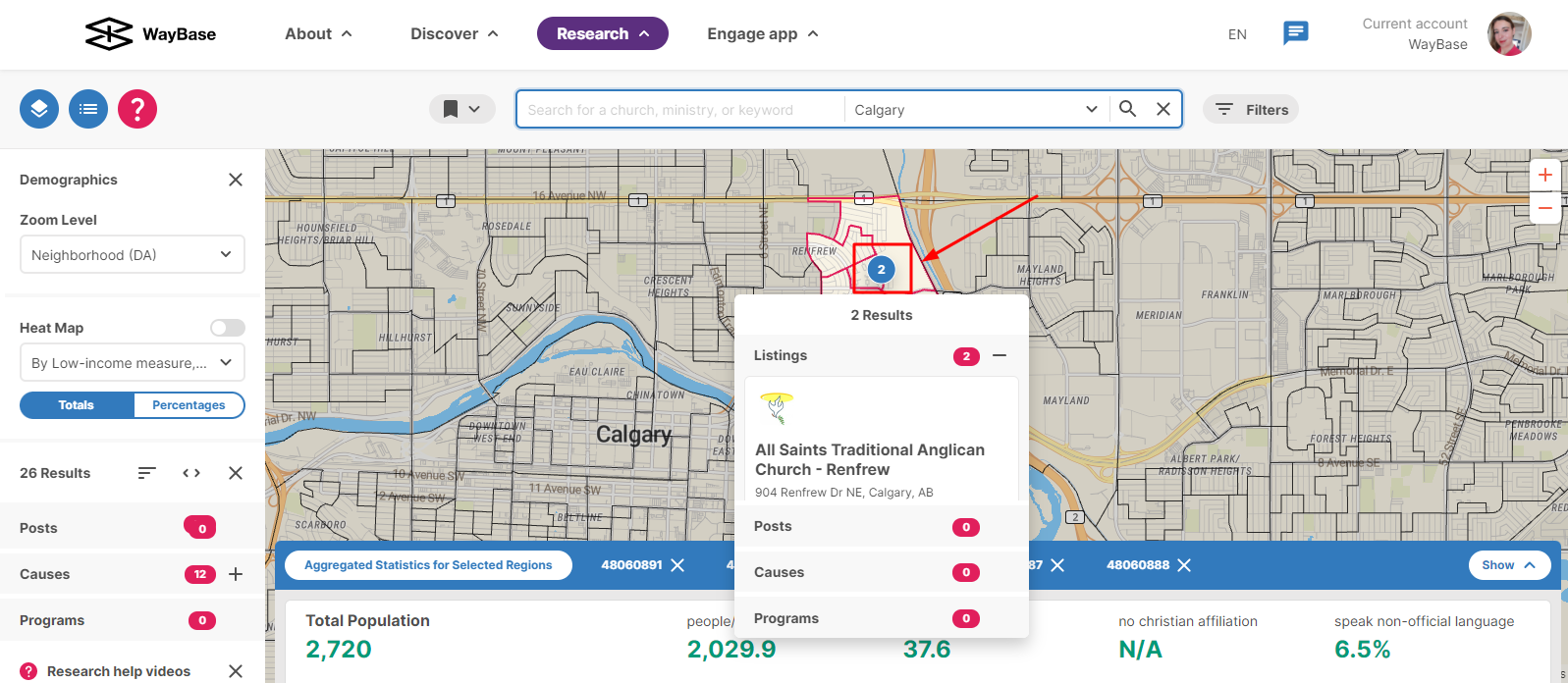 7. Click on
Show
at the lower right corner of the map.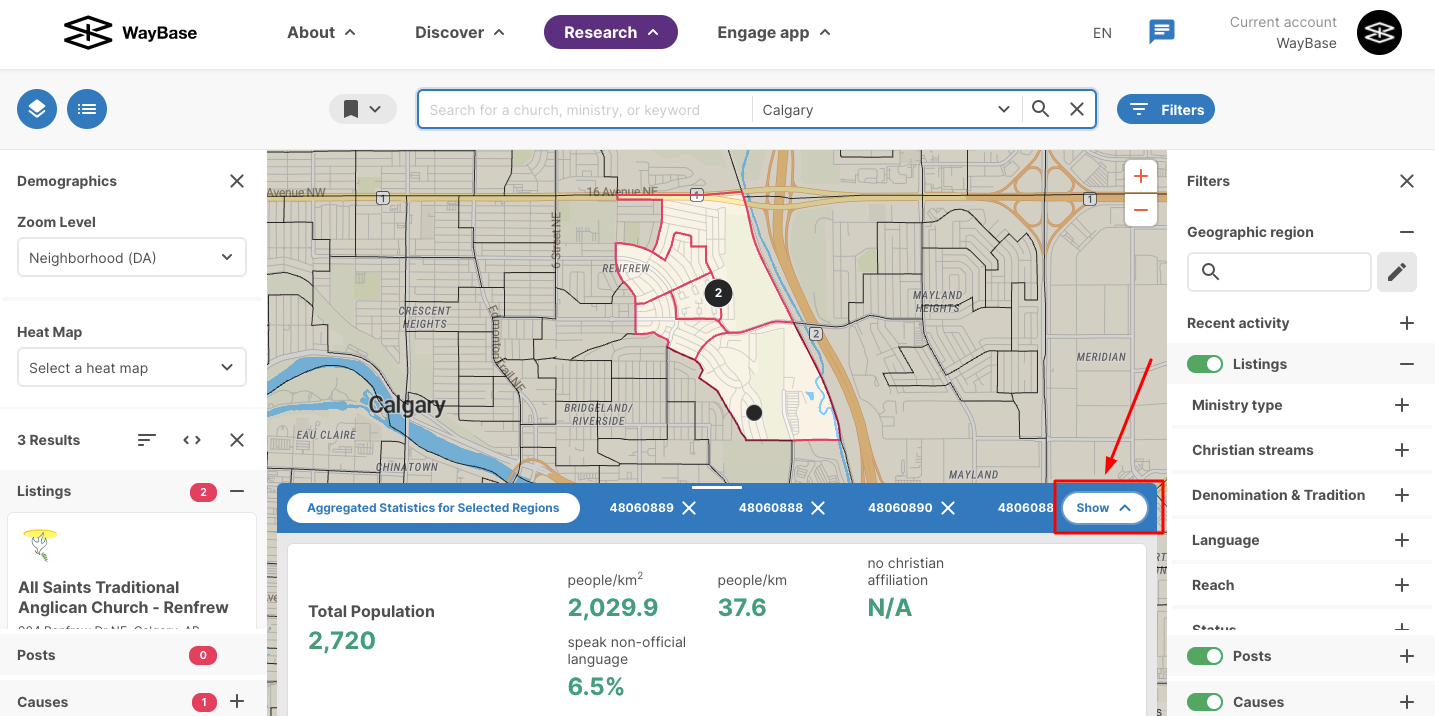 8. Scroll down to start viewing the graphs and charts to learn more about the people who live in your
neighborhood
. At the bottom of the graphs, you will find narration that explains the graph and the source of the data. You will also see there are prompt questions below each of the graphs to indicate the kind of questions the graph is able to answer for you.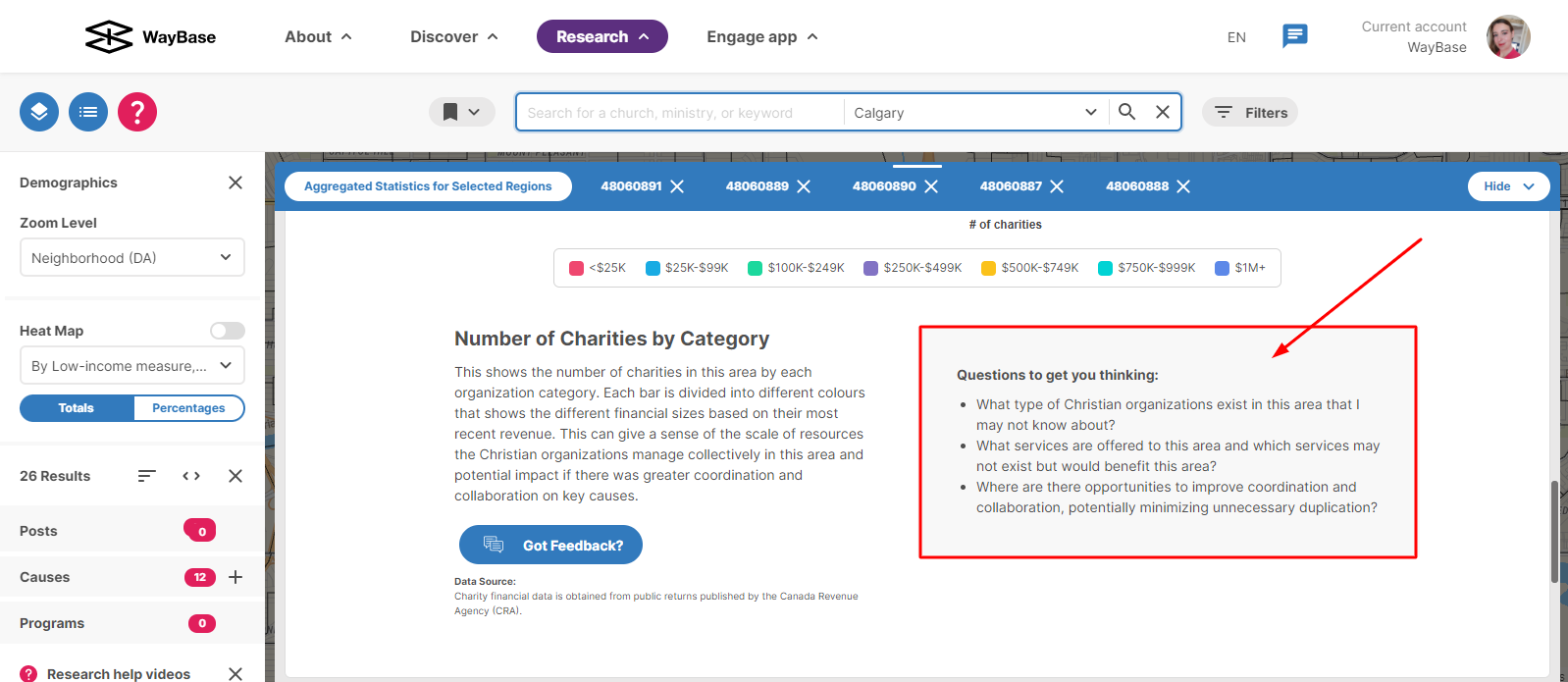 9.
Continue to explore the graphs and charts to use it further and learn more about the people in your
neighborhood, as well as
the nearby Christian ministries.
Related Articles

How do I use the heat map?

Do you want to be able to glance at a map and instantly glean insights about the people who live there? Then it's time to use our heat mapping tool. This article will walk you through how to use the heat mapping tool. The heat mapping functionality ...

How do I download graphs & charts from the Research section?

You may want to use some of the graphs and charts that are generated under the Research Tab for your newsletter, board report, or presentation. In this article, we will walk you through how to download the graphs and charts as image files. The graphs ...

How can I save my search and get notifications on my search criteria?

Setting up notifications will enable email alerts daily or once a week with any updates that are relevant to you. This will save you from repeatedly checking the platform to see if there are new causes, posts, or listings in either a category or ...

How do I set up my multi-site church?

This article helps central administrators of multi-site churches set up their accounts and listings on WayBase. Login to WayBase with your organization account. In the Discover tab, search for the parent listing for your church in the search bar. ...

How do I find and claim my ministry's listing?

In order to complete this process you will need to have a free account. If you already have an account, make sure you are logged in before you begin. If you do not yet have an account, you can create one here. 1. Login to your ministry's WayBase ...