How do I share my ministry content on the Engage app?

All ministries can share content on one or different channels which will be available for individual Engage app users to view and use on Engage. All ministry content and causes are available on the 'Learn' tab in the Engage app.

Before creating and uploading content to the Engage app, a ministry would need to create a distribution channel. A ministry can choose to have one channel for all their content, or different channels, depending on the target audience for their content on each channel.

By organizing your ministry content into different channels with clearly defined themes, you can reach the appropriate group that would most benefit from your content. For instance, a church could create three separate channels for their bible study groups, youth groups and children, respectively. Users would have the option to subscribe to each of your channels separately.

To be able to upload content to the Engage app, ensure you:
Have an organization account

Create or claim its own listing (click here to learn to create or claim a listing).

Creating a Distribution channel

1. Login to your WayBase organization account.
2. Click on the
Engage App
tab, and click on '
Distribution Channels
' on the left panel. Then click '
Create your first channel
' to create your first distribution channel.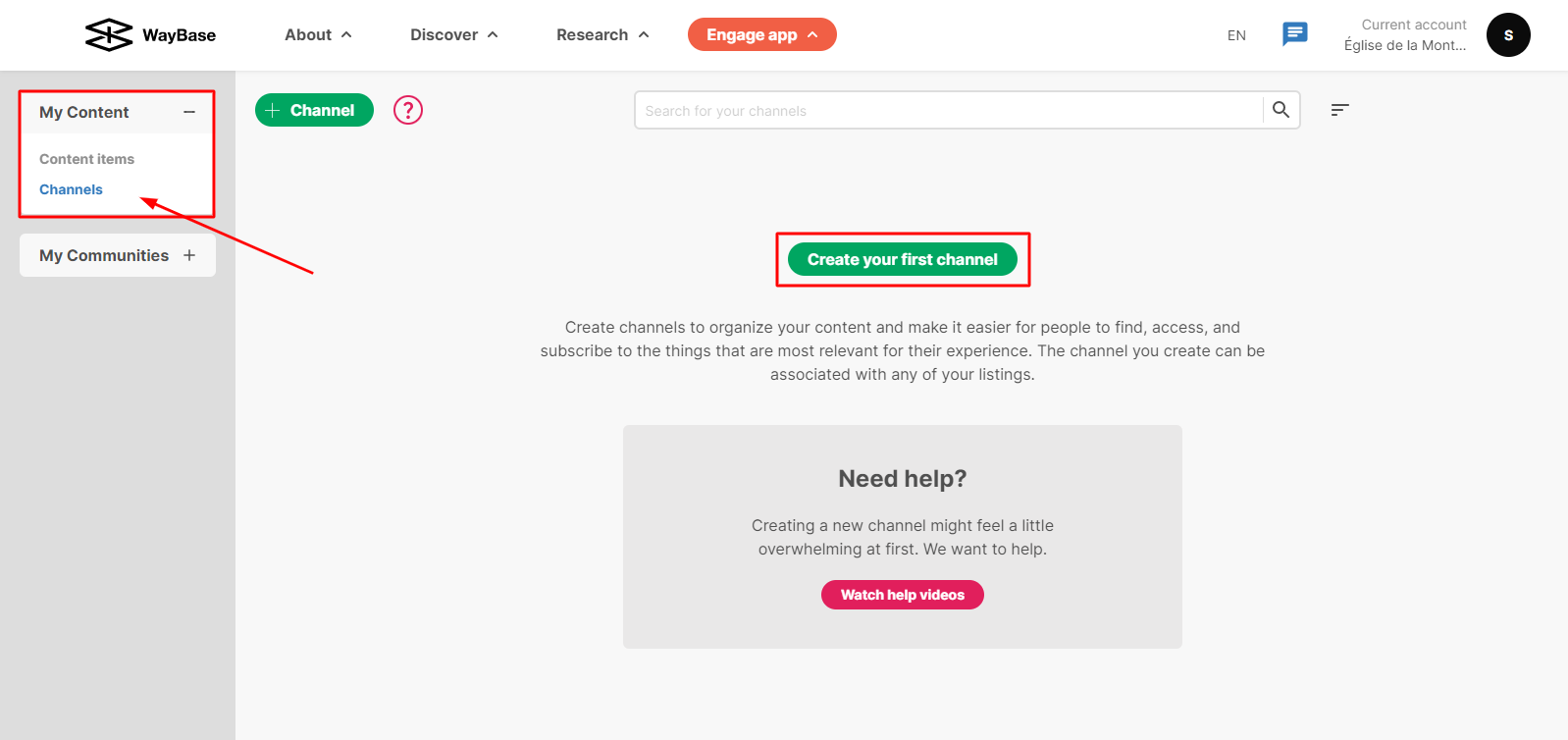 3. In the pop-up box, enter your channel name and description, which would explain in simple terms what content it contains, or who it is suitable for.
4. Click on '
Associated Listings
' in the left panel of the dialog box, select your ministry listing, and click Save.
Sharing Content on the Distribution Channel

1. Click on the Engage App tab, and then click on '
Content Items
' on the left panel. Then click '
Create your first content item
' to create your content item.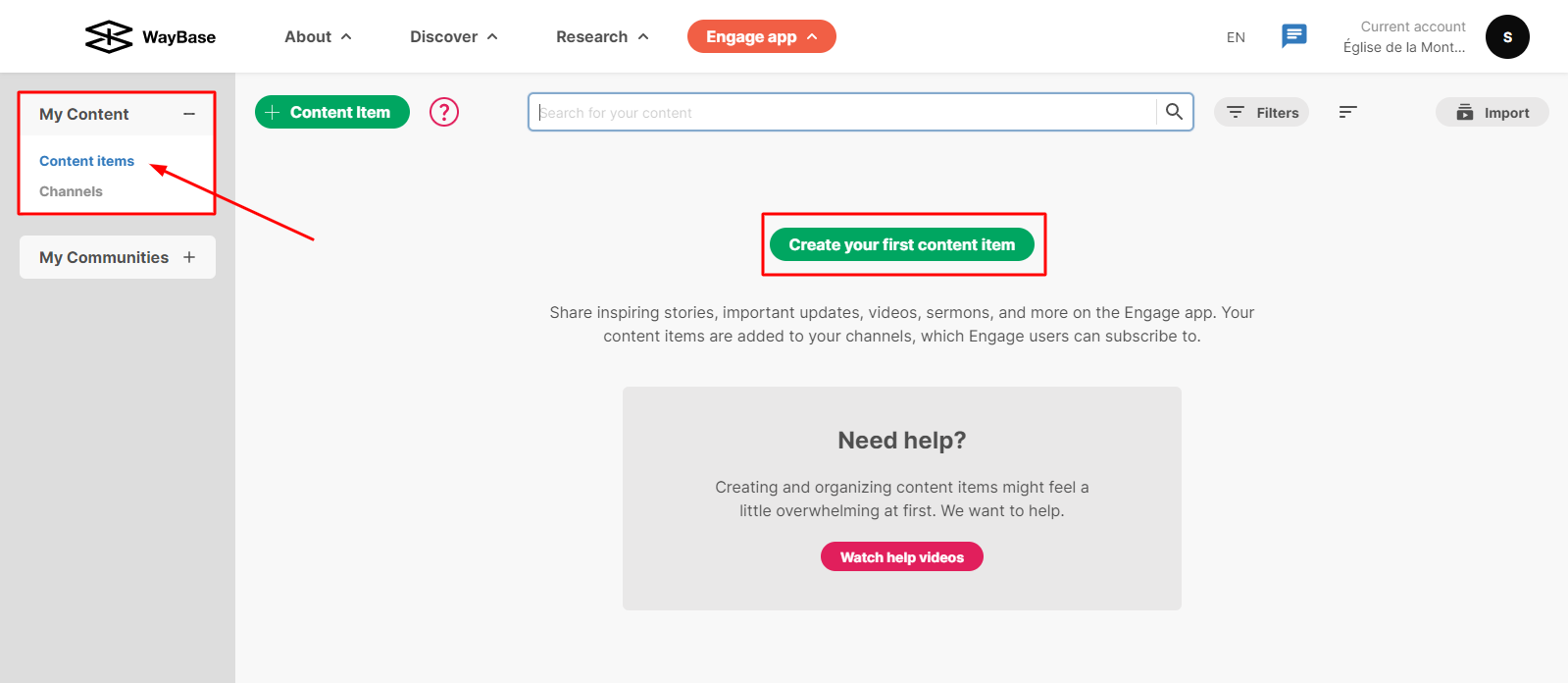 2. In the Details > Basic Info section, you can enter the title, brief summary, author, topic tags, and period for which you would like your content item to be visible on the Engage app.
3. The Details > Content section is where your content item will be uploaded. This can be in the form of text, images, videos, or a combination of the above.
4. In the '
Actions
' section, you can add a suggested action. This suggested action is meant to inspire the user to apply your key message and transform it into meaningful action for themselves.
5. Finally, in the '
Distribution
' section, select the distribution channel that this content would be displayed in on the Engage app.
Related Articles

How do I use Engage app analytics for my ministry?

The analytics provided to ministries on the Engage app give valuable insights into the membership, usage of their content, and profile overview of your followers. This can serve as a source of feedback on your content and how to better serve your ...

How do I manage my content on Engage?

1. Login to your WayBase account. 2. Select the Engage App tab. Here, you will see all the content your organization has published on the app. 3. On the left panel, you will see the various content you can manage or edit, including content, ...

How do I create a community for discussion for my ministry?

On the Engage app, users can start conversations in a public community or a private community. All communities are available to users in the Connect tab of the Engage App. ​ A public community can be created by a ministry, inviting interaction and ...

How to create community actions on Engage

Creating community actions is one of the main highlights on Engage. Allowing you and your community to collectively make an impact. If you're not sure how to create a community for a group in your church/ministry, click here. ​ Anyone who is part of ...

How do I keep people engaged with my cause on WayBase?

Causes are any welfare initiative that aims to improve the social and economic well-being of a community. On WayBase, you can create a cause that can help increase your reach and engagement with your initiative. Once you have created your cause, ...