How do I download graphs & charts from the Research section?
You may want to use some of the graphs and charts that are generated under the Research Tab for your newsletter, board report, or presentation. In this article, we will walk you through how to download the graphs and charts as image files.

The graphs and charts automatically populate with information based on the section you have highlighted on the Map.
1. To get started, i
n the map in the
Research
tab, click on an area that you are interested in generating reports on.
2. On the left panel, select the
Zoom Level
that you want to apply to the area you have selected.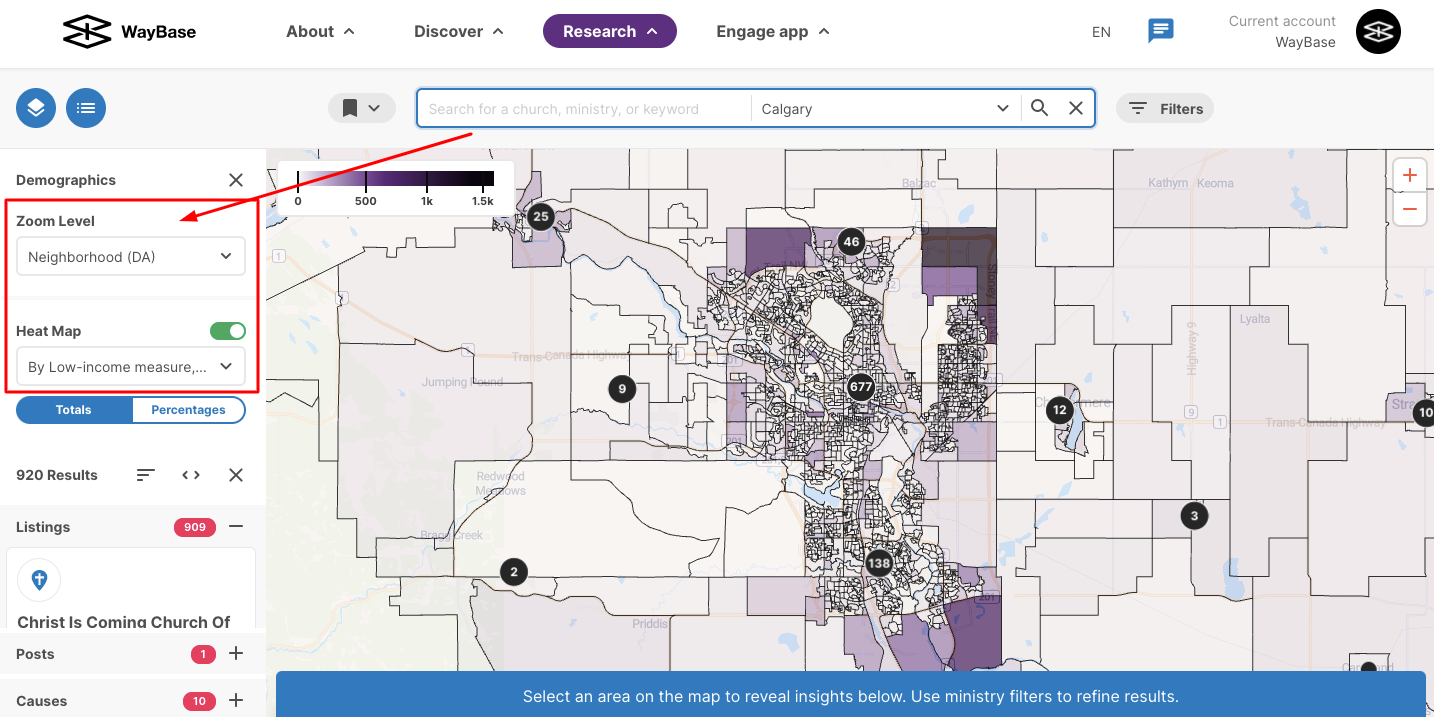 3.
Then, click on the
Show
button on the lower right corner of the map. This will scroll up the statistics and data of the area you selected across different categories.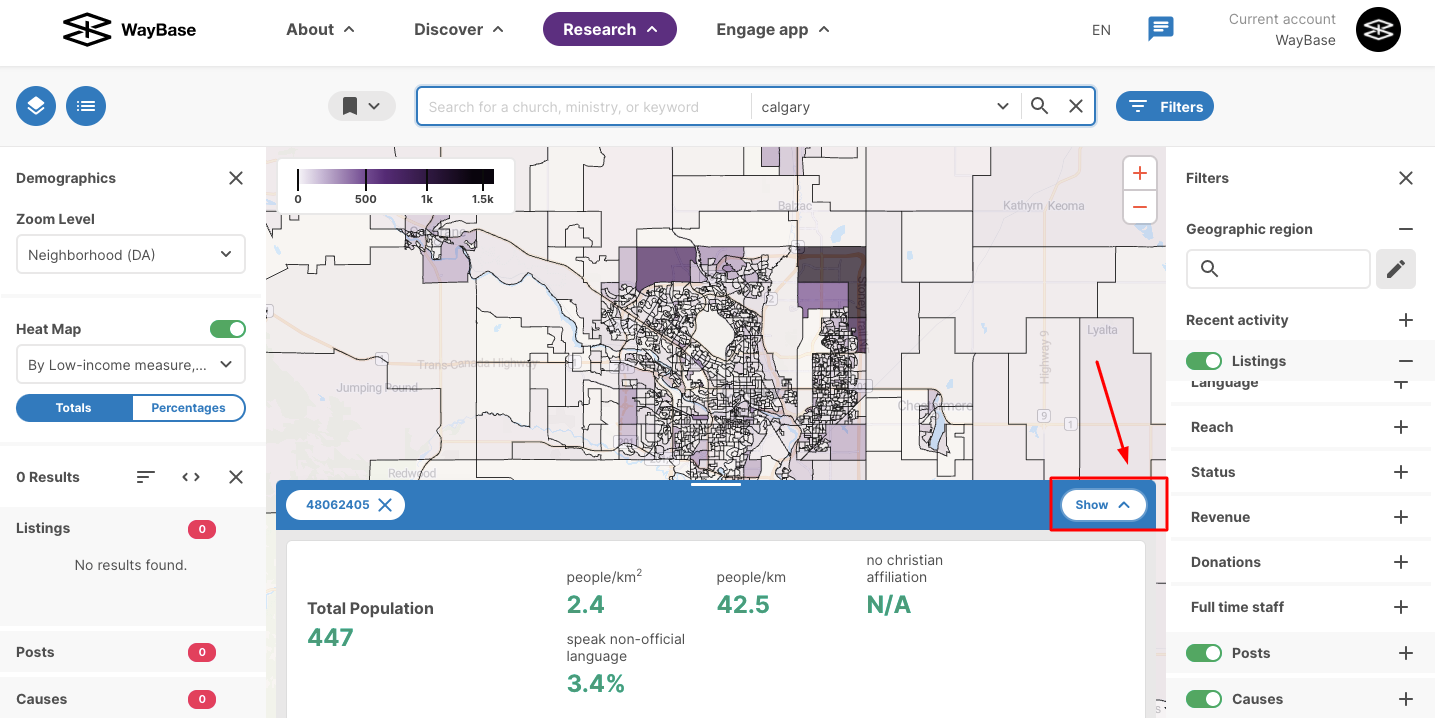 4. Scroll down and select the category you are interested in downloading data reports on.
5. Once you have found the graph/chart that you would like to download, click on the
button visible on the chart.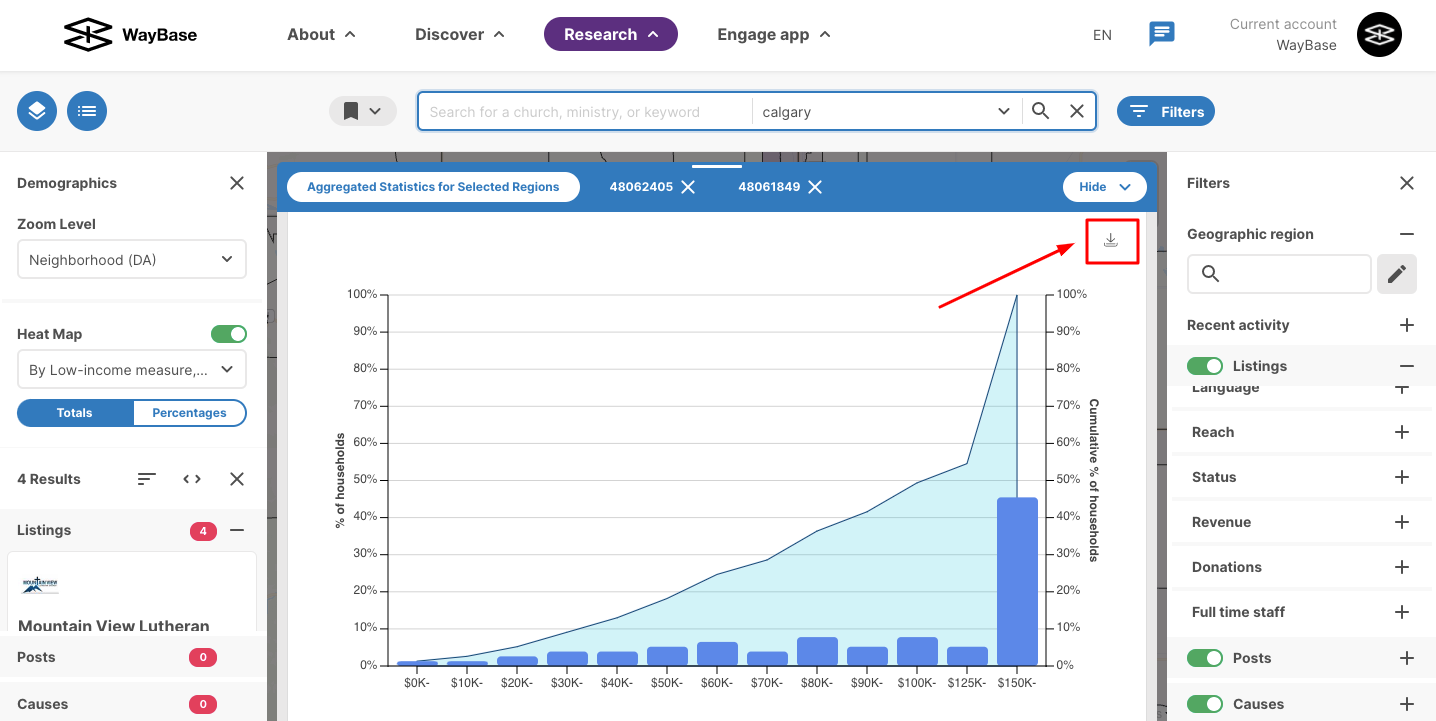 6. Proceed to click
Download
in the pop-up box that appears. The graph will download to your browser's default downloads location.
Related Articles

How do I explore my neighborhood?

In this article, we are going to walkthrough how to use the Map to better understand your neighborhood. 1. Click on the Research tab in the top navigation bar. 2. Select zoom level 'Neighborhood (DA)' from the dropdown menu on the left panel. 3. Zoom ...

How do I manage my ministries content on Engage?

1. Login to your WayBase account. 2. Select the Engage App tab. Here, you will see all the content your organization has published on the app. 3. On the left panel, you will see the various content you can manage or edit, including content, ...

How do I create a cause?

In order to create a Cause you will first need to have a free account. If you have not yet done so, you can create one here 1. Login to the WayBase account that you would like to post a Cause for. 2. In the top right corner of your screen click on ...

How do I update my listing's details?

In this article, we are focusing on how to edit each section of your listing. The more information you log into this portion of your listing, the easier it is for members to find and join your community. Updating The Basics Section Login to your ...

How do I share my ministry content on the Engage app?

All ministries can share content on one or different channels which will be available for individual Engage app users to view and use on Engage. All ministry content and causes are available on the 'Learn' tab in the Engage app. To be able to upload ...