How do I manage my content on Engage?
1. Login to your WayBase account.
2. Select the Engage App tab. Here, you will see all the content your organization has published on the app.
3. On the left panel, you will see the various content you can manage or edit, including content, communities, and analytics.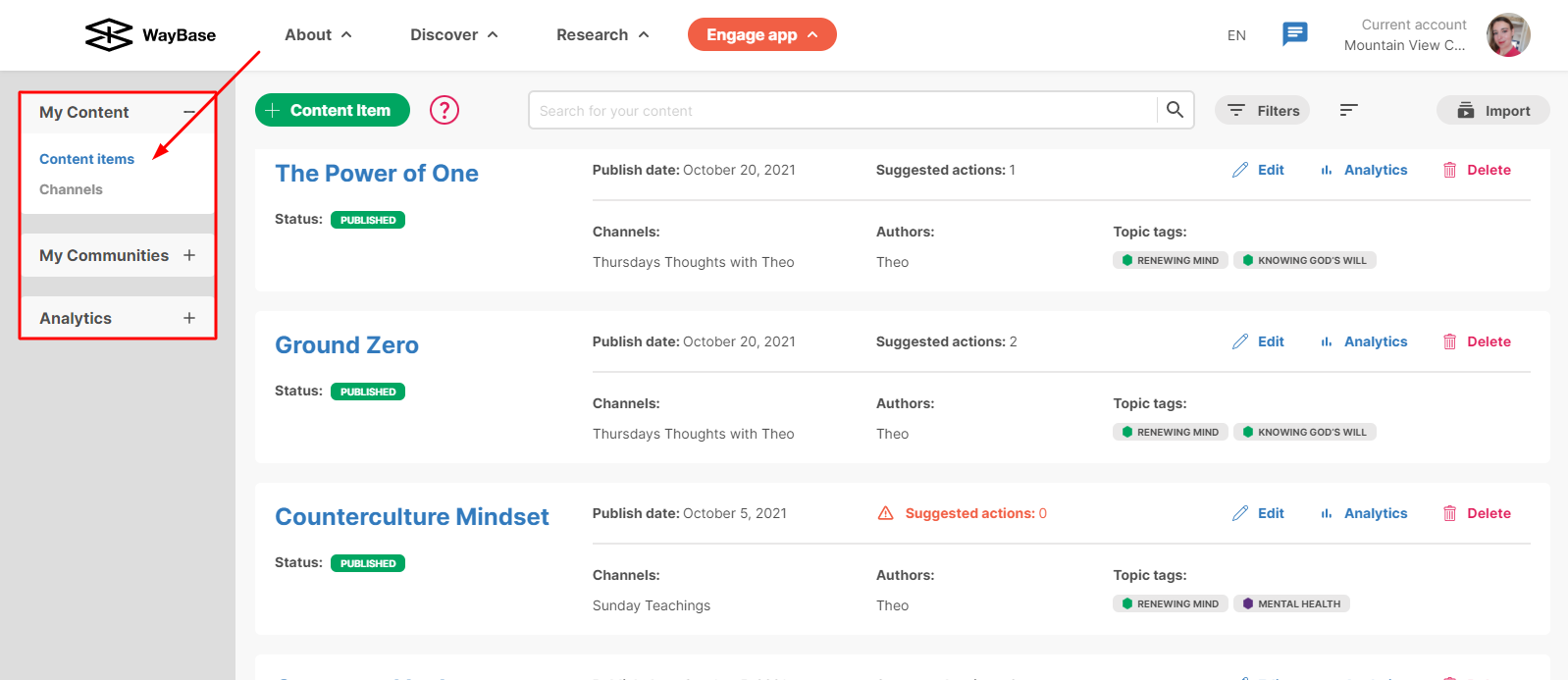 4.
Under the 'Content' section, you can manage or edit items and distribution channels.
5. Under the 'Communities' section, you can manage your communities and conversations. While communities are overarching chat groups, conversations are specific chats within that community.
6. Lastly, in the 'Analytics' section, you can review how your community is engaging with the content your organization is creating for them. To learn more about how to understand the analytics, click here.
Related Articles

How do I use Engage app analytics for my ministry?

The analytics provided to ministries on the Engage app give valuable insights into the membership, usage of their content, and profile overview of your followers. This can serve as a source of feedback on your content and how to better serve your ...

How do I share my ministry content on the Engage app?

All ministries can share content on one or different channels which will be available for individual Engage app users to view and use on Engage. All ministry content and causes are available on the 'Learn' tab in the Engage app. Before creating and ...

How do I keep people engaged with my cause on WayBase?

Causes are any welfare initiative that aims to improve the social and economic well-being of a community. On WayBase, you can create a cause that can help increase your reach and engagement with your initiative. Once you have created your cause, ...

How do I search and find the ministries I am looking for?

You can use the Discover feature in WayBase in a variety of ways, like looking for a church near you or selecting a type of ministry including camps, churches, education, or various others. ​ Click on the Discover tab in the main navigation menu ...

How to create community actions on Engage

Creating community actions is one of the main highlights on Engage. Allowing you and your community to collectively make an impact. If you're not sure how to create a community for a group in your church/ministry, click here. ​ Anyone who is part of ...