How do I create a discussion and manage content for my ministry?

On the Engage app, users can start conversations in a public community or a private community. All communities are available to users in the Connect tab of the Engage App.

A public community can be created by a ministry, inviting interaction and discussion from any users who wish to join and be a part of your community. A private community, on the other hand, can be created by a ministry or by an individual user, where membership is exclusive and can be accessed by invitation only.
To be able to create a public or private community for your ministry, each ministry should:

- Have an organization account (click
here
to learn more)
- Have created or claimed its own listing (click
here
to learn to create or claim a listing).
1.
Login
to your WayBase organization account.
2. Click on the Engage App tab, and click on '
Communities
' in the left panel. Then click on the '
+ Community
' button to create your first community.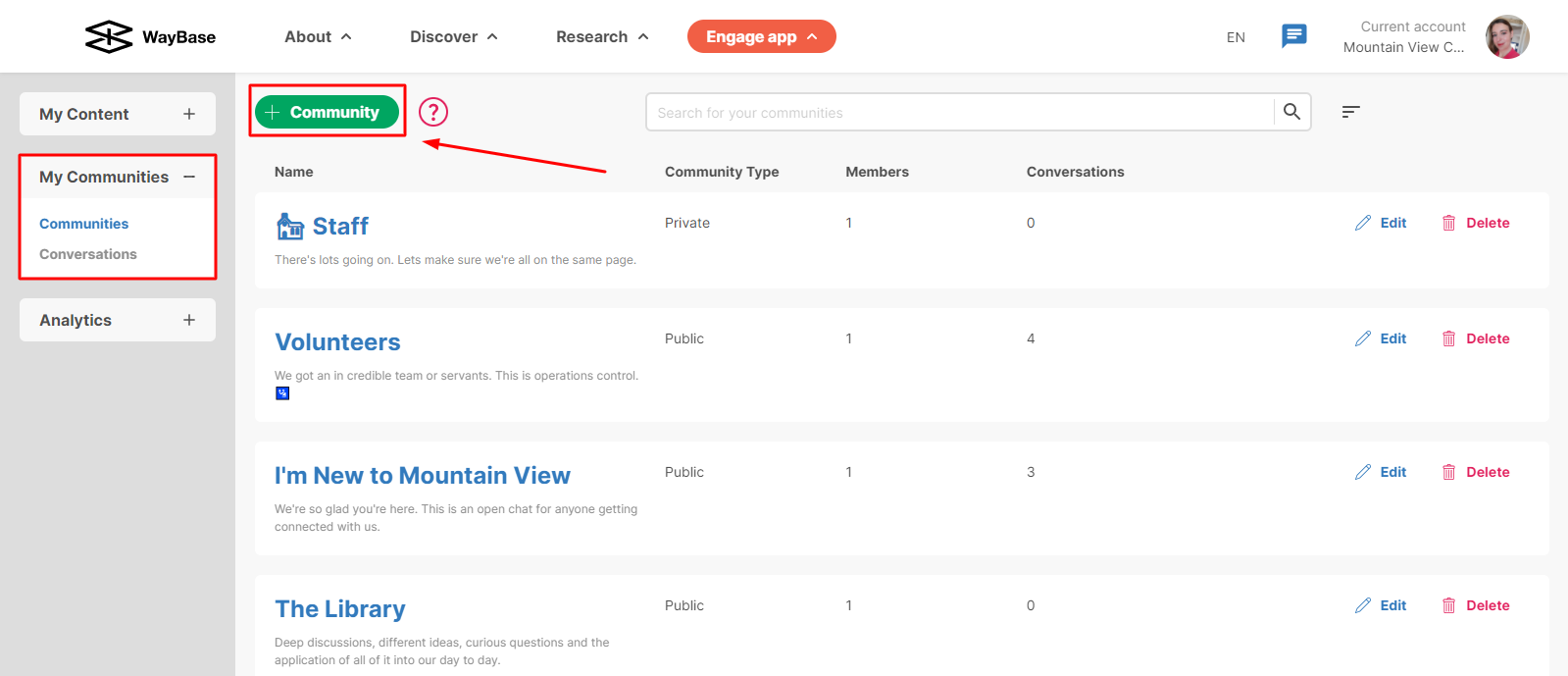 3. In the '
Details
' section of the dialog box, you can enter the name and details that clearly indicate the purpose and identity of your community.
4. Here, you also have the option of making it public, available to all app users who find your community on the app, or private, where members are added to the community through invitation only.
5. Click on '
Listings
' in the left panel of the dialog box, select your ministry listing, and click Save.
How do I manage my content on Engage?
1. On Engage App tab. Here, you will see all the content your organization has published on the app.
2. On the left panel, you will see the various content you can manage or edit, including content, communities, and analytics.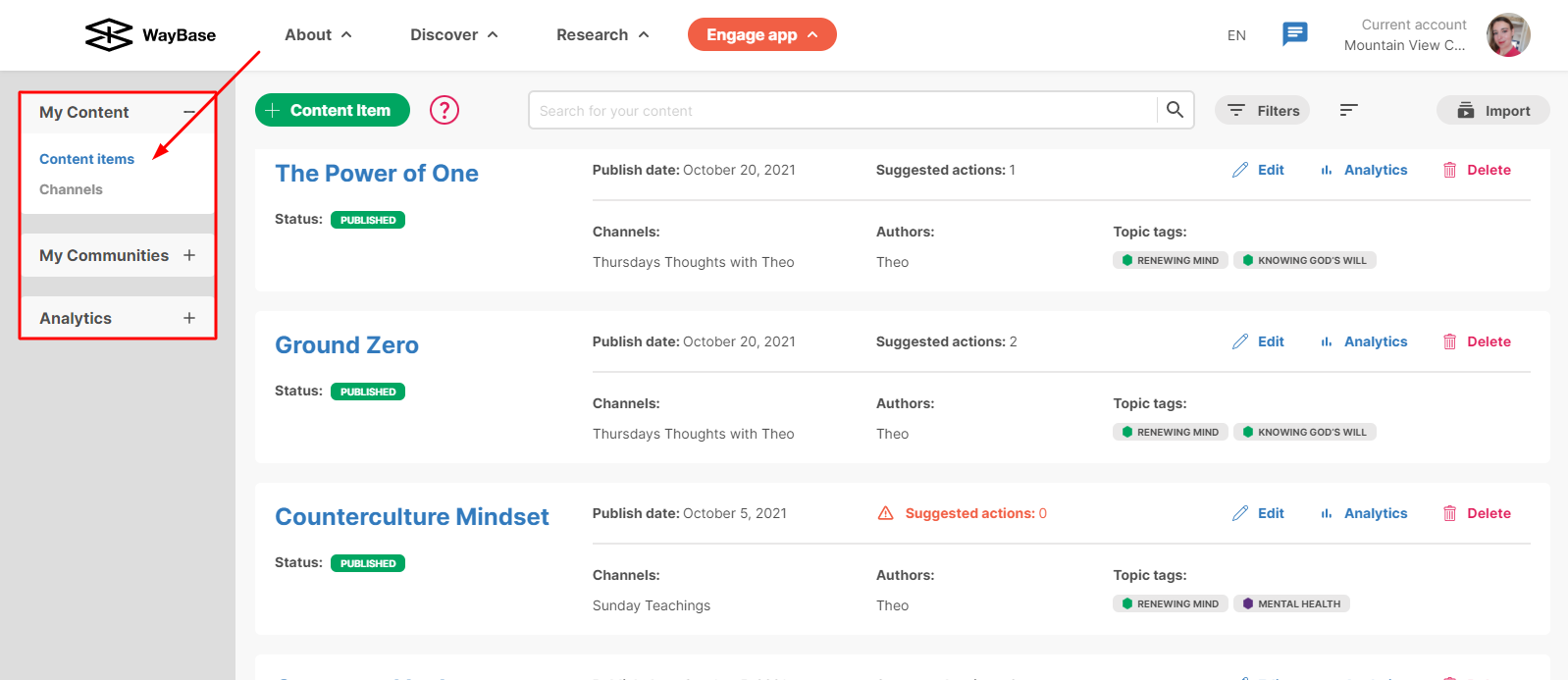 3.
Under the 'Content' section, you can manage or edit items and distribution channels.
4. Under the 'Communities' section, you can manage your communities and conversations. While communities are overarching chat groups, conversations are specific chats within that community.
5. Lastly, in the 'Analytics' section, you can review how your community is engaging with the content your organization is creating for them. To learn more about how to understand the analytics, click here.
Related Articles

How do I share my ministry content on the Engage?

All ministries can share content on one or different channels which will be available for individual Engage app users to view and use on Engage. All ministry content and causes are available on the 'Learn' tab in the Engage app. Before creating and ...

How do I create a new account?

​ An account is required to update your ministry information, create a post or cause on WayBase. You could create a personal account as an individual user, or an organization account on behalf of your ministry. 1. In the top right corner, click the ...

How do I create a new listing?

Our goal is to upload every Christian ministry and influencer in Canada to WayBase. One way to accomplish this is to get ministries to proactively create a listing on WayBase. Before you create a new listing, it is important to check if your listing ...

How do I update my listing's details?

In this article, we are focusing on how to edit each section of your listing. The more information you log into this portion of your listing, the easier it is for members to find and join your community. Updating The Basics Section 1. Login to your ...

How do I create a cause?

In order to create a Cause you will first need to have a free account. If you have not yet done so, you can create one here. 1. Login to the WayBase account that you would like to post a Cause for. 2. In the top right corner of your screen click on ...